2015 Ebook Market
January 19, 2015 — Watch the launch video of K-lytics Interactive, a new online tool for instant market data on the Amazon Kindle eBook Market. eBook Marketing starts here and has never been easier.

I feel this will be a great year, not just because I am and optimist by nature, but because it started with a great enhancement of the K-lytics service offering. You provided feedback, we listened … and delivered. We reported about the delivery of the in-depth custom research reports that cover sub-sub-genres of book genres you guys were interested in the most. Today, we have the next breakthrough announcement.
Launch of K-lytics Interactive
You do not want to miss the launch video with the demo. If you are new to K-lytics, please watch the whole video to get all the relevant background. Experienced users, you can fast forward to minute 4:00 of the video to see an introduction to the tool.
How to find profitable ebook market niches in seconds? – Click on the video below.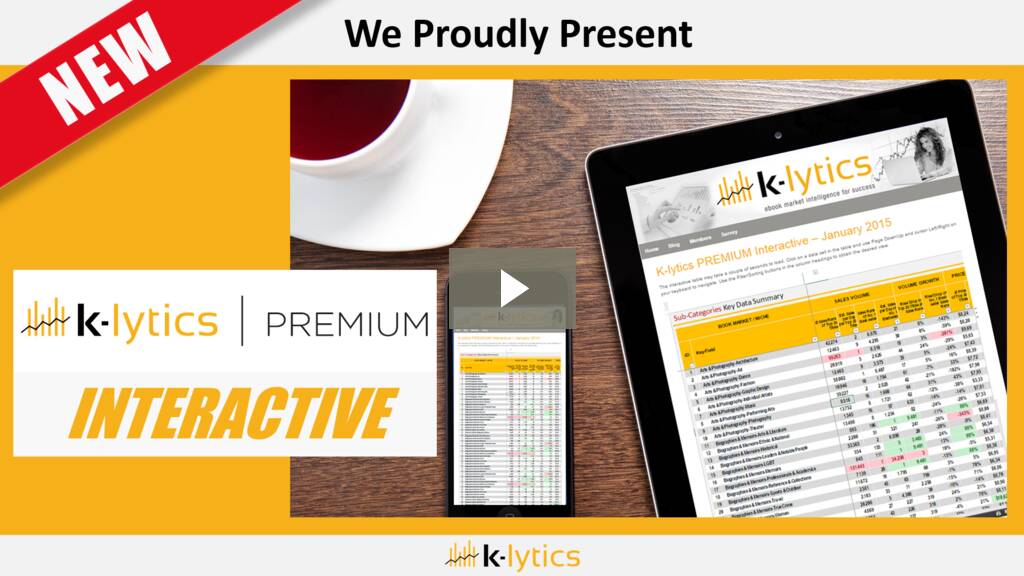 For the best viewing experience, click on video and – once it is playing – click on the full screen icon in the bottom right of the player. Note: iOS users (e.g. iPad) have to click once more on the pop-up video to start playback.
Ebook Market Data – The Basis for Effective Ebook Marketing Campaigns
K-lytics goes much beyond conventional Kindle search, spy and keyword tools out there in the market. Why? – Because we use our proprietary database of hundreds of thousands of book data points. This enables us (and you!) to assess book genre performance over time, ironing out all hourly and daily sales rank fluctuations that can otherwise lead you astray.
Use K-lytics Interactive to:
Compare book categories of your choice against each other
Find the best performing categories for a book you want to publish
Optimize categorization of existing books
Design your niche strategy based on your custom criteria and filters
Find 'hot cells', 'hot niches' 'hot mainstream' categories
… and all this with the press of a button.

About K-lytics
Success in publishing has a lot to do with the proper niche selection – in other words the choice of the right sub-genre or sub-market and the question of how to dominate in such sub-market. And such niche selection requires adequate market intelligence and trend scouting. Kindle publishing has become like drilling for oil. Highly profitable for those who know where to drill and hit a well; incredibly frustrating for those whose exploration efforts take place in the wrong fields or lack the proper technology.
This is where K-lytics, ebook market intelligence for success, comes into play, a unique system to improve your chances of ebook success in the highly competitive ebook market.
#ebooks #kindlebooks #kindledirectpublishing #kindle #ebookmarket #ebookmarketing #authors #writers #directpublishing #selfpublishing